June is National Great Outdoors Month, and what better way to create great summer memories with your family than by experiencing the beauty of nature together? But how can you, with little ones in tow, take advantage of all that June has to offer? Here are five fun suggestions to engage even the smallest of outdoor adventurers.
Take Advantage of Your State Park's Programming!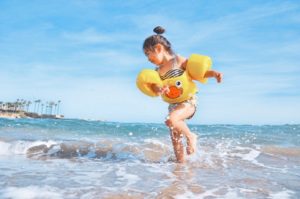 Your local state park is a treasure trove of fun, family-friendly activities. Consider going to a Firefly Walk! June is a particularly active season for fireflies, known for dancing through the night air with their magical twinkling. If your family plans to go firefly-spotting, plan ahead! Some parks, such as the Smokey Mountain National Park, are in such high demand that you must enter a lottery for admission to the perfect viewing ground. If parks strike your fancy, be sure to pick up a "Park Passport" from the park gift shop. Your child will not only be able to keep memories from your trip, but will delight in collecting unique stamps in their passport from all the parks you visit.
Find Treasure….Go Geocaching!
Any child can tell you that there is a thrill in searching for buried treasure, but who would have thought that it could be educational experience? Geocaching is the perfect fusion of technology and nature. Using a downloadable phone app or GPS-supported device, your task is to navigate your way to a hidden box containing a "treasure" left by the last Geocacher. If you decide to take the treasure you find home, you must leave something of equal value for the next group to discover. And who knows where your hunt may lead you? Cache boxes may be hidden anywhere from a friendly suburb to a mountain summit! When home, you and your little adventurer can log your finds on geocaching.com together.