Looking For Comfortable, Safe, and Nurturing
Child Care in San Diego?
With Individualized Attention To Promote Personal Growth And Social Skills,


WEE CARE PRESCHOOL

in San Diego Has It All!
Join Wee Care Preschool in San Diego!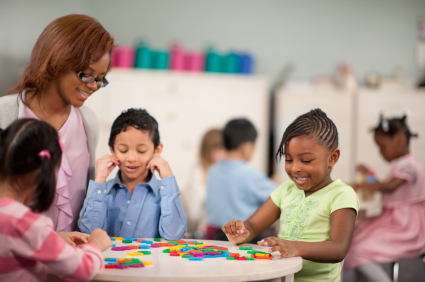 FREE Childcare for 2 Weeks!
Up to a $450 value*
* For complete
DETAILS
call (858) 560-0985
or complete the form today.
At Wee Care Preschool in San Diego, we have educational and fun programs for your child age 18 months to 5 years.
Our interactive and exciting Enrichment Programs also help your child grow, explore, develop, learn and smile!
Our educational approach focuses on nurturing your child's innate intelligence through hands-on active learning.
Our curriculum is aligned with standards set forth by national accrediting associations.
Wee Care Preschool in San Diego has amazing programs that encourage children to laugh and play, all while challenging their thinking to stimulate their growth and development.
Call (858) 560-0985 TODAY for your child's future!
We proudly serve the greater San Diego area!
After having our daughter, Chloe, in in-home care until she was almost 18 months, we were really nervous that she wasn't going to get the individual attention and nurturing that she was used to. We're happy to say that Wee Care has been one of the best decisions we've made. Chloe loves her teachers and all the children she gets to play and learn with. Wee Care has an academic program and play time every day, they also arrange to have many extracurricular activities on site. We're going to sign Chloe up for ballet, tap, Spanish and gym after Christmas. All of these programs are offered at the school for a small additional fee so we don't have to cart her around. The hours are incredible, as we both work. Having the flexibility of a school that's open 6am to 6pm means we don't have to rush everywhere. All meals are included in the fees – such a time saver not having to prepare food daily. Yet another bonus is that they also offer the occasional "date night" for parents and have after-hours care so that we can have some quality time together as a couple. This school has become an extended family for us, it has met our needs and exceeded them. We highly recommend it to all of our friends with kids that are looking for a safe, fun and educational environment.
– Sarah & Daniel Lecuna Parent of Chloe (2)
I cannot be more pleased with how this preschool is run. Not only are the teachers and staff some of the most caring and sweet individuals we have ever met, but the center is always in pristine condition!
– Shandy Y.
Early this year I found out my dad had cancer, the thought that my mom would no longer be able to watch over my son devastated me. I searched for weeks for the perfect day care. The first time I visited Wee Care I knew everything would be OK. I love the fact that my son is not only in a safe and fun environment but also how much he learns! When I pick him up he always has a smile on his face. Thank you Wee Care for watching my most precious gift.
– Carolina Santiago ~ "Adam's Mommy"