Putting your child in a day care center could be your best decision yet, but you have to ensure that your child is in good hands. While you can't determine that at the onset, there are things that you could consider to help you decide whether you should leave your child in a certain day care center.
Childcare safety shouldn't be ignored nor underestimated. Kids tend to move a lot and even go unnoticed, so find a day care center where your children will be supervised at all times. They should be monitored and taken care of by friendly and dedicated staff or caregivers. Take note that these caregivers are licensed professionals and  have received a certification in child development or early childhood education.
Child Teacher Ratio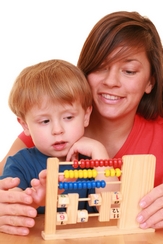 The ratio of child to staff should be at least 7:1 for three-year-old kids, 4:1 for two-year-olds, and 3:1 for infants. There should also be a policy for sick children, and how TV viewing is addressed, if there is a television in the day care center (usually, there is none).
Consider the sleeping and playing environments of the children. Do they have cribs for infants, soft rubber mats and pillows to keep children from hitting the floor and getting hurt during play? The toys that children play with should be sanitized regularly to prevent the spread of diseases.
Childcare Food Safety
Childcare is also extended to the food that is available in the day care center. Are these refrigerated? It would be better, too, if the center keeps a list of children who have allergic reactions to certain food and drinks. Cleaning materials and sharp objects must be kept in cabinets that are beyond the children's  reach. These cabinets and drawers should be locked. On the other hand, the day care center should keep a first-aid  kit for the children, which should always be available for emergencies.
Check if the bathrooms have toilet seats that can be reached by children. There should be child-friendly toiletries as well. More important, the towels and hand soaps should be at toddlers' reach.
It is likewise important for day care centers to have an evacuation or emergency plan. You can't prevent emergencies and calamities, and certainly you cannot be with your child at all times. You just have to trust the day care center and make sure that they have smoke alarms, fire extinguishers, and fire exits.
Child care shouldn't be undermined; choose a day care center that places a premium on the safety of your children.
Wee Care Preschool in Chula Vista and San Diego is dedicated to creating a fun and safe learning environment for preschool age children. Come check out our preschool programs and contact us today!