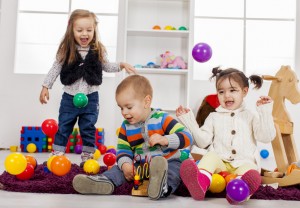 Becoming a parent is one of the most exhilarating experiences a person can have in life. But watching new life enter your world is bittersweet given the realization that the real world looms, and you simply can't spend every day with your new little bundle of joy. That's why daycare services in the United States have risen so much in popularity.
Studies have shown that people who spend time in daycare centers as infants and toddlers are more likely to own a home and have a job in the future, in addition to steering clear of alcohol and drug-related problems in their adult lives. As a result, it can be very beneficial for parents to look into daycare as a viable option when it comes time to return to work — but it's important to find the right service. Here's what to look for in a daycare as you're beginning the search.
Pre-preschool educational exercises
For a child, the real learning tends to begin when he or she actually enters a more structured academic environment, in preschool and kindergarten. But in the meantime, a good daycare center can offer simple exercises in letter and number recognition, differentiating between shapes and colors and pre-reading, in order to prepare for those kinds of elemental learning. Always ask about which educational advantages a potential childcare center might have to offer.
Opportunities to expand social skills
Sticking a child in front of the television can be a borderline miraculous experience for them, watching how the colors and moving outlines continually shift and form new patterns. But while the Sesame Street crew can provide some fun stimulation, Big Bird doesn't talk back. Placing a child into a new social environment where he or she is away from home forces him or her to begin to learn the fundamentals of making new friends and interacting with others, a crucial skill for any stage in life.
Simple non-competitive sports games
Most family day care providers offer a wide range of activities for kids to participate in, and one of the most beneficial can be non-competitive sports. This means there are no winners or losers. Instead, the emphasis is placed on taking responsibility and beginning to demonstrate some leadership qualities as well. These can be essential opportunities when you're deciding what to look for in a daycare center.
More creative endeavors
Music, dance, painting and other creative pursuits started early on in a child's life can encourage and inspire them for life. Beginning these types of endeavors in daycare is a great way to plant seeds of hobbies and extracurricular activities later on in elementary and high school, and even up through college and well into their adult lives. When you're figuring out what to look for in a daycare, always set your sights on creativity.