Sending your little one to a quality preschool has so many benefits. In addition to preparing young children for kindergarten, enrolling in preschool also provides a venue for your child's intellectual, emotional, social and physical growth. While preschool brings the opportunity for wonderful and exciting things for young kids, not all children look forward to starting preschool. In fact, some of them feel anxious because of separation and that's perfectly normal. The good news is there are a few things that parents like you can do to make the transition easier and smoother for your child.
Here are some tips you might find helpful for your little one who's starting preschool this year. 
Visit the preschool
Most preschools offer orientation visits to incoming families. Take time to attend one of these sessions so you can see what your child will experience in his or her new preschool. It's during these visits that you'll get to learn more about the daily activities that take place at this setting,  you'll meet some of the teachers and staff, and you'll be able to see for yourself the classroom set-up as well as the typical things that happen during a preschool day. If you're allowed, take some photos too, so you can show them to your child when you get home. 
Have fun conversations about preschool at home
Now that you have visited the preschool, you have a lot to talk about it with your little one. Get young kids excited about starting preschool by talking about the fun things they'll get to do once they arrive. Talk about how exciting it is when they'll meet and play with a lot of new friends, the fun games they'll play, the fact that they can play outdoors, the exciting classroom activities and so on.
You can make it even more exciting by using pretend play at home. For example, you can play the role of the teacher and have your child pretend to be the student. Then act out real-life classroom scenarios so they can get a better sense of what a typical day  in preschool is like. Take turns playing different roles. This is an excellent way to help reduce your child's anxiety and assure your child that a preschool is a safe and friendly place for fun and learning.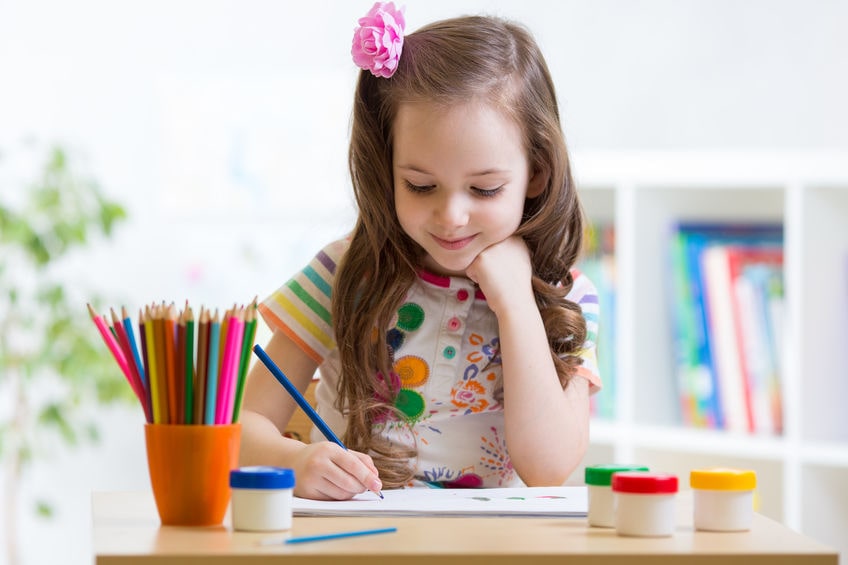 Read books about preschool
Another helpful tip for parents whose kids are starting preschool is to read more books about going to preschool. There is a wide variety of books perfect for kids who are about to embark on this new journey. Visit your local library or a nearby bookshop. Have little ones choose the reading materials that pique their interest. Read these books together, talk about the events and story, as well as the characters. This is an excellent way to help your child feel more comfortable with listening to stories in a group setting. 
Practice essential life skills
Preschool is a venue where young kids begin to learn about self-sufficiency and independence. But you don't have to wait until they get to start preschool before teaching them the basics. Have your child practice some important skills such as unzipping and hanging up his or her own coat, putting on socks and shoes, putting on his or her backpack, organizing his or her items in the school bag, and so on. If you'll be sending snacks or lunch with your little one, have him or her practice unwrapping food too. This is an important skill little kids will need to master because they'll need it on the first day. 
Teach your child about routines
Young kids tend to thrive on well-established routines. It makes them feel secure and safe. Help make the transition to preschool smoother by teaching them about routine at home. For example, set a specific time for waking up in the morning and a specific time for going to bed at night. Have young children become used to the series of activities and steps they will be going through once they start preschool. Set up a routine for eating breakfast, brushing their teeth and getting dressed. This will help them get used to how things will work during preschool mornings. 
Let them play at their new preschool
Besides paying the preschool a visit, it's also a great idea to bring your child to the preschool  and have him or her tour the building. Give little ones a chance to play on the playground and get a better feel of the environment. If you can, try to do this a few times because this is an excellent way to increase your child's comfort in the new environment. 
Starting preschool is an exciting phase for both parents and kids alike. Help your little one as he or she embarks on this new journey by following these tips, and by choosing the best childcare center for your child – Wee Care Preschool. Please give us a call for more information.