Trying to get our little ones to help out with the chores at home is a common source of arguments for many families. We may feel like we're constantly asking our children why they haven't made their beds,  put the dishes in the sink, or organized their toys. Oftentimes, it feels like it may seem like our kids just ignore us. Teaching our kids about chores at home can be frustrating, and you've probably found yourself caught in this dilemma at one time or another. One of the reasons why many kids resist doing chores is because they think helping out around the home is boring, tedious, and time-consuming.
However, introducing chores to young kids early on is one way of teaching them about the importance of responsibility. When children help out with various tasks around the home, It teaches them important life skills they will need to use in the future. Learning these important responsibilities also helps to instill a better understanding of time management skills, self-reliance, and teamwork. It also offers a great opportunity for bonding time for families. If you feel like you're constantly nagging your children to get them moving, it's time for something to change. Here's a list of some tips and tricks you might find useful when it comes to teaching your kids chores.
Eliminate distractions
One of the reasons why kids may procrastinate or even refuse to do chores is that they are distracted by other things. More often than not, their electronic devices are usually the culprit. In this case, you might want to try removing this distraction. This means you'll need to take away your child's device and have a discussion to help  him or her understand what needs to be done in order to earn back the privilege of using the electronic device.
As we want to highlight the importance of learning about responsibility, this may not be something that will appeal to most kids. Try to appeal to their interests instead.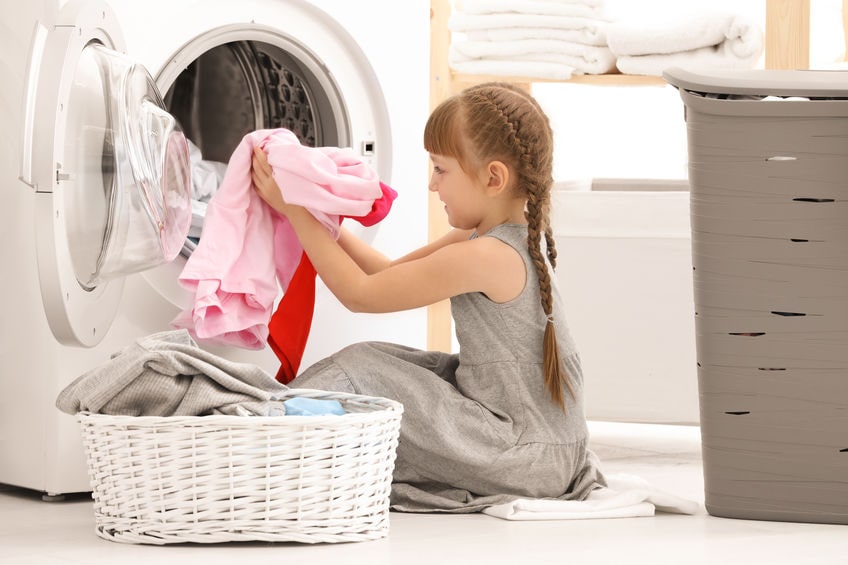 Consider using a reward system
Another useful trick you can use when it comes to teaching kids chores is a reward system. Think about something special you can offer your child as soon as the job is done, and this doesn't necessarily have to be in the form of material items.
For instance, you can offer to take your child on a trip to the beach over the weekend if he or she is able to finish every chore for the week. You can give your child an extended hour of playtime if he or she helps out with preparing the table for dinner. Many families create a chore chart, too! Seeing boxes getting ticked off as each task is completed can help keep children motivated.
Establish a time limit
In an attempt to do the minimal amount of household chores, some children may try to stall the task as much as they can. This is where using time limits comes in handy. Time limits should be coupled with consequences so that your child will be compelled to finish each task as quickly as possible.
For example, you may ask children to make sure all of their toys are put into a storage box in ten minutes. If they don't, their electronics time will be reduced by 30 minutes.
Never use chores as a means for punishment
One of the common mistakes some parents make is using household chores as a form of punishment, which should never be the case. There are parents who may make their kids wash the dishes or do some house cleaning as a consequence for misbehavior because they failed to study for an exam. Doing this will give  children a negative perception about chores and lead them to believe that chores are undesirable or something they should try to avoid. It's better if you can help your child understand that chores are expected, just like following behavior expectations and making good decisions.
Be patient and encouraging
Young kids won't get it right on their first few attempts, and that's okay. What's important is your child's willingness to learn and try.  Try to avoid getting frustrated if your child isn't not able to do the chores  the way you expected. Instead, be there to guide and encourage children until they get the hang of it. Teach them how to do these things better. More importantly, recognize their efforts and praise them for a job well done each time they participate in any chores around your home.
Teaching kids chores is an excellent way to instill in them a sense of independence and responsibility in addition to other important life skills they will need in the future. With these tips, you can get your little one on board to help out around your home without as much struggle or conflict.
For more parenting tips, or if you're looking for the best preschool for your child, please visit Wee Care Preschool.