When looking for a fun and engaging sports program that focuses on helping your child gain a higher sense of self-esteem, better social and emotional skills, and develop advanced motor skills, then 
Amazing Athletes
 will amaze you
.
The program, that has been providing sports education to children ages 2 and a half to six years old for over a decade and is a part of early education programs across the United States, is available at 
Chula Vista day care
 and 
Chula Vista preschool
.
How does playing sports in a non-competitive environment achieve to their full physical, mental, social, and emotional potential
?
What is Amazing Athletes?
The sports education program is a franchise program that works with over 100 schools in 26 states
. This includes Chula Vista preschools and child care programs.
Keeping in mind that the most effective way to educate young children is to provide structure
. The sports activities
are supervised
and guided by adults.
It focuses on teaching kids the basics of a different sports. These include volleyball, soccer, basketball, lacrosse, and golf. The program is child-centered and aims to help kids gain better motor abilities.
This
is achieved by
practicing sports that target large muscles used for running, jumping balancing, throwing, bowling, catching, and kicking
.
Kids
are encouraged
to try new sports and challenge themselves to interact with other kids
. 
What makes Amazing Athletes a great educational sports program for very young children?
A great sports education program for young children will take into account how children develop

socially

and

emotionally

. It also focuses on physical and cognitive development at this age. 
With increased physical abilities, young children need to have appropriate channels to run, throw, kick, and move

. 
The structured but non-competitive Amazing Athletes program lets kids have fun.

It focuses on the child as a person not labeling them a winner or loser (also keeps children from feeling inadequate or becoming too 
Children in this age group are learning about

socially

acceptable behavior. That can only

be learned

through interaction with peers and adults. 
A child-centered early child care program that doesn't rely on indoor activities and technology is better than one that does

.
How can an educational sports program benefit a young child?
The increased usage of technology devices at a younger age and the number of available early educational software and applications is a wonderful thing
.
It's a huge benefit to this new generation of
naturally
curious children to have easy access to a world of age-appropriate knowledge
.
However
, is it
really
helping them?
Using these devices all day
eventually
leads to a dependence on the solitude and immobility often required from application users (of any age)
?
Young children need to spend time outdoors moving and interacting with each other.
Time outdoors in a structured sport environment helps improve their health, mood, and quality of life
.
How can structured, outdoor sports activities improve my child's health?
Amazing Athletes brings to Chula Vista day care and Chula Vista preschool a variety of structured activities
.
These
are headed by
competent educators to give children an 
educational sports program
 that meets their health needs
. The program structure gives your child the most opportunity for growth. It also makes sure all children have fun each time they take part in one of the nine outdoor sports.
Does the Amazing Athletes Program nurture mental health?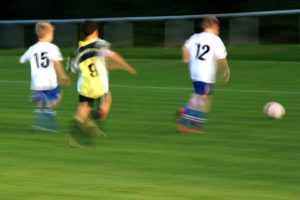 Amazing Athletes works with Chula Vista child care providers to ensure positive environment for your child's cognitive health and development
. 
Mental Health America
 explains that a young child needs structure, guidance and discipline, encouraging and supportive educators, and the chance to interact with other children
.
Experts emphasize the need for physical exercise, that improves mood and may help in preventing several childhood diseases, like obesity and early onset diabetes
. Children
are encouraged
to play in teams and pairs as appropriate. 
Chula Vista child care is ready to help your child grow and develop to their potential with Amazing Athletes
.
Rest assured that your son or daughter will have fun playing and learning with their peers, making friends, and forming positive relationships to experienced sports education specialists
.