You know the stuff that happens in movies? You peek into your child's room, deliver goodnight kisses as you tuck your kids into bed with a bedtime story or two. Before long, they fall asleep and you sneak out as you turn the lights out. In an ideal situation this can happen. But often it gets a bit more challenging. Finding solutions to effective child sleep training are a real concern for parents who struggle to get their young kids to stay in bed at night.
Considering this, all sorts of suggestions may arise.
Some say crying it out could help kids to stay in bed, but this may simply not work for young toddlers who can get too stubborn a little too often. And then there's the temper tantrums that can disrupt the already difficult sleeping situation you're in. 
Here we'll look at some helpful tips and tricks to help make your child sleep training a more bearable experience for both you and your child. 
Encourage your child's independence by gradually spending less time in their room during bedtime.
Aside from that, you can reinforce your child's efforts to stay in bed by speaking words of encouragement such as, "Look at you, you're a big boy now. I'm so proud of you for staying in bed!"  Nothing is too exaggerated when using positive reinforcement. So do it as often as you can and be lavish about your praises.
Rehearse a bedtime routine
Who remembers playing pretend games as kids? We've all done it and they can be just as fun and exciting as the real thing.
It's the same with any task, even the most mundane ones. If bedtime becomes a bit of a challenge, rehearsing bedtime routines can make getting and staying in bed more exciting for kids. At the very least, it gives them practice on what to expect.
While you're at it, remember that the point of these pretend games is to make tasks seem more fun and less overwhelming for your kids. Bedtime can be made less of a serious task for kids when you inject some fun here and there. Acting goofy can do so much for teaching your kids to love the tasks, rather than when you sternly give orders or act like a dictator.
Begin rehearsing bedtime routines a few hours before they sleep and at least a few times a week. Repetition boosts recall and helps them become more familiar with the routine. Taking these little steps can help ease your child and get them used to sleeping independently.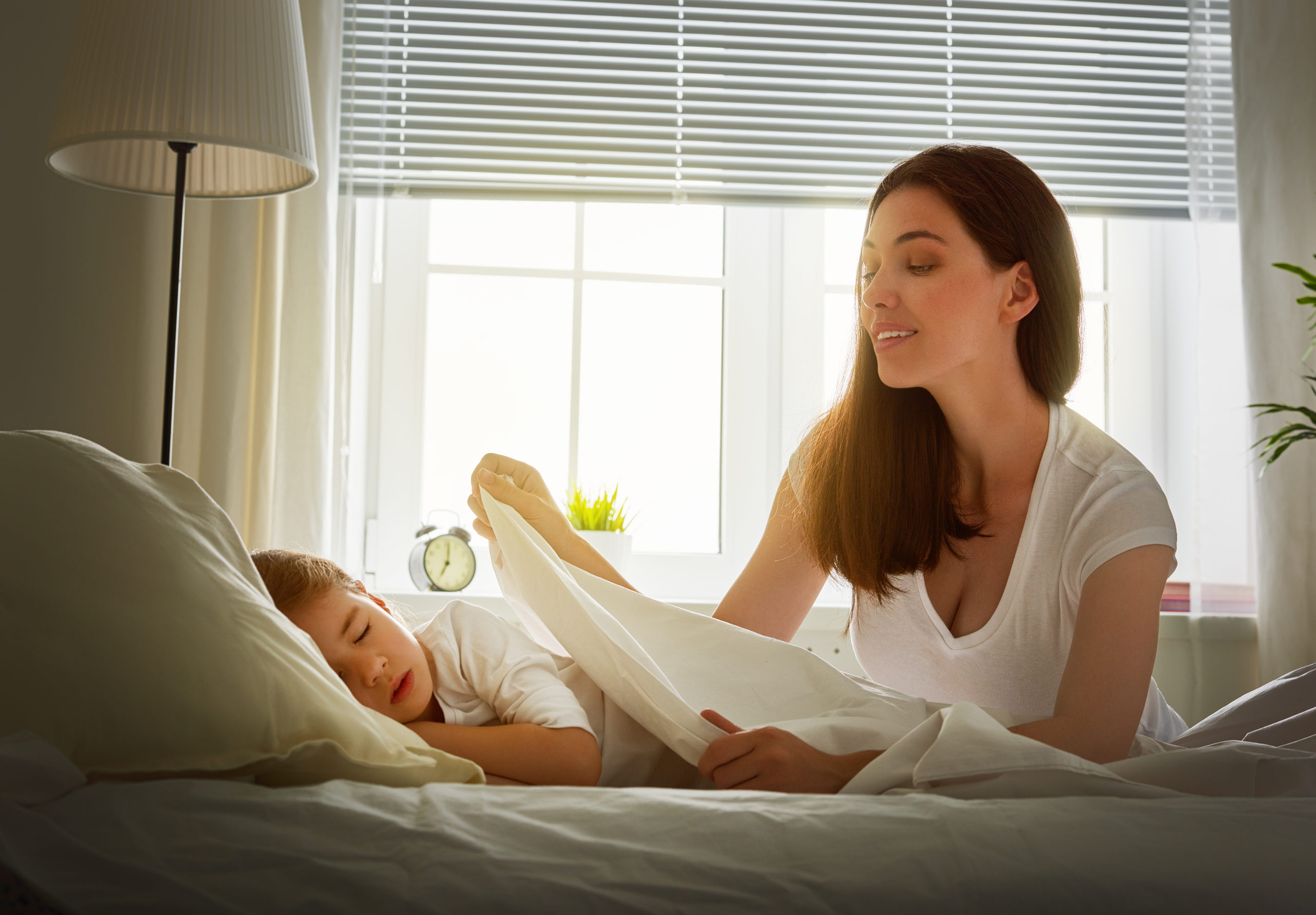 Take a Break
Children who have recently moved from a crib to a bed may have difficulty falling asleep or even just staying in bed in the first couple of weeks. Putting your kids to sleep is alright in the first few nights but can be exhausting for you as a parent when your child becomes needy of your presence during bedtime. 
A fun trick here is to take a break during your bedtime sessions in gradual 1-minute increments as days pass. Later they wouldn't even notice if you're gone too long and will fall asleep on one of these breaks. 
Eventually your child will get used to sleeping alone at night and all that's left to do is drop by for a goodnight kiss!
The Excuse-Me Drill
Similar to taking a gradually increasing time-bound break during bedtime, excusing yourself a few times can also do the trick. This helps especially when you have a child who cries as soon as you leave their sight. These little breaks (you can do as much as 20 or 30 of them each night) help build assurance that you'll always come back whenever you leave. That will minimize their tendency to overreact when you're gone from sight. 
This sets proper expectations for your child as you do these drills repeatedly over the course of a few days or weeks. As you then move forward, gradually spend more time away until your child no longer seeks your presence during bedtime. 
Find these tips helpful? We're glad to help you with your parenting journey. With three different locations throughout Southern California, help is just a click away. Visit https://weecarepreschools.com/ or contact us for more details about our amazing childhood learning programs.