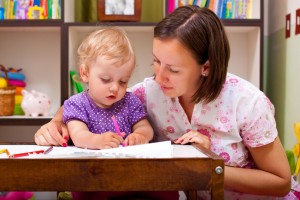 In the United States, more than 80% of children spend some time in day care before they are four years old. However, as more and more studies have been done, the general consensus is that "some time" may not be enough time. The fact is that when parents make the decision to find a preschool program for their children, they are choosing not only a high quality means for child care, but also a way of improving their children's success in life.
Why Parents Need to Find a Preschool
Greater Academic Success

One of the biggest reasons why parents are looking into quality childcare is because of its impact on academics. The average two year old learns five new words a day. Through daycare, children are given the tools to reinforce this learning. This is one reason why, according to Democracy and Regulation, preschools can improve high school graduation rates by 20%.

Less Trouble with the Law

While academia is an important part of what family day care providers offer, new research shows that the social aspects may be even more important. Preschools help our children to develop personally, emotionally, economically, and socially. Subsequently, according to a study of low-income children in Chicago, preschool attendees are 28% less likely to develop drug or alcohol addictions and have problems with the law than children who never receive preschool education.

Higher Earning Potential

According to a study by William Barnett of Rutgers University, children who attend preschool are more likely to be professionally and financially successful. The study showed that 40 year old adults who had attended preschool were more likely to have higher salaries and have better chances of keeping their jobs.

What to Look for in a Daycare

Of course, not every program for child care is created equally. Parents looking to find a preschool that has a positive effect on their children should take the following into consideration.

Accreditation

Accreditation, or licensing, of a program is crucial when trying to find a preschool of quality. As the NAEYC for Families writes, accreditation shows that preschools have submitted their curriculum, facility, and staff to a rigorous vetting process, ensuring they offer quality programs for all attendees.

Teacher Qualifications

According to the Child Care Resource Center, preschool teachers in California must have at least an associates degree. However, ongoing research shows that preschool teachers with college degrees have an even greater positive impact of preschool attendance on children. Parents should not neglect knowing who it is they are entrusting their child's care to.

Keep an Eye Open for Safety

One of the best ways to find a preschool that is as safe for our children as it is educational is to take a look around the facility. As the CCRC writes, while licensing is proof of the facility's safety, parents need to go the extra mile in checking for smoke detectors, a well cleaned facility, and appliances and furniture that are well maintained to ensure the safety of their children.

There can be no doubt that the successful search to find a preschool can improve the lives of American children. However, there are preschools, and there are quality preschools. Parents looking to find the latter should keep these important tips in mind.