The preschool achievement gap between  middle-class and low-income families can be devastating. Preschool-age children who live below the poverty line are 1.5 years behind their peers in education. As they grow older, this preschool achievement gap does not close. By age 10, the children from low-income families are still woefully behind.

If a child is not enrolled in a quality preschool program at a child care center, they may experience a preschool achievement gap. This achievement gap is not likely to be narrowed by grade school alone. This preschool achievement gap can evolve into having a hard time getting into a good college or finding a good job. The preschool gap is a reality educators and families must combat with high quality preschool programs. Preschool programs can close the achievement gap and set children up for academic success.

Benefits of Early Childhood Education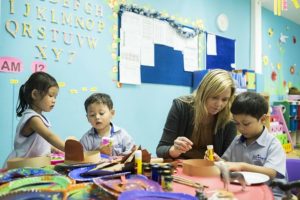 Early childhood education is important because a child's mind is rapidly developing in his or her early years. The first 5 years of a child's life make up the foundational years for linguistic, cognitive, social, emotional, and regulatory skills. Prepare your children  for kindergarten by enrolling them in a high-quality preschool program.

The long-term benefits of early childhood education have been studied extensively for years. Some studies have found children who attended preschool are more likely to graduate high school.

In a Princeton publication called "Long-Term Effects of Early Childhood Programs on Cognitive and School Outcomes" by W. Steven Barnett, "Five of 11 studies with achievement test data found statistically significant positive effects beyond third grade." The benefits of early childhood education extend beyond your child's kindergarten years.

Preschool vs. No Preschool Statistics
Many studies have been conducted on preschool vs. no preschool. A study conducted by the National Institute for Early Education Research (NIEER) found that children who attend a high-quality preschool program have better math and vocabulary skills upon entering kindergarten than children not enrolled in preschool.

What about the preschool gap statistics? According to research done by the Ounce of Prevention Fund,  at-risk children who do not attend a quality preschool program are:
25% more likely to drop out of school

 70% more likely to be arrested for a violent crime
These are just a few of the preschool vs. no preschool statistics out there. Start making decisions for your children today that will help them as adults.

Other Benefits of Preschool
Preschool is a great opportunity for your child to gain exposure to new things and meet new people. Preschool prepares children for spending hours in the classroom. Preschool also helps children learn how to listen to other adults and authority figures besides mommy or daddy. Introducing your child to other adults with authority is one of the most important parts of preschool. No learning can happen if your child is throwing a tantrum because you aren't there.

How to Find a Quality Preschool Program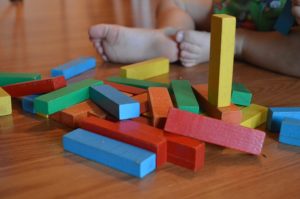 A point to consider here is the quality of the preschool. A basic child care option may not provide the same benefits as a quality preschool program. As you look for preschools near you, take a close look at their curriculum. Ask about the training of the preschool teachers to get a sense of the quality of the education.

What are other criteria do you have in mind for the preschool of your dreams? Ask potential child care centers about the staff to student ratio. Does the child care center offer nutritious snacks or meals for your child? What education and training does the staff have in early childhood education?

Enroll Your Child Today at Wee Care Preschool
At Wee Care Preschool, we give equal time to academics and play to cultivate your child's love of learning. Our preschool program enables children to build social skills as they learn. Ask us at Wee Care Preschool about our "Whole Child" philosophy and the importance of play in early childhood education!

Enrolled 2-year-olds and 3-year-olds focus on precursors like phonics, letters, and numbers. Our pre-kindergarten students work on basic reading skills and being able to write their names. We offer optional Enrichment Programs like music, dance, Spanish, gymnastics, and a computer class.

Visit us at one of our 3 Wee Care Preschool locations in the San Diego area. Stop by our Chula Vista location or the San Diego neighborhoods of Clairemont or 4S Ranch! Come visit us for a drop-in tour of our child care center any Tuesday at 10 AM.
Contact us today to learn more about closing the preschool gap at Wee Care Preschool!