Did you know that there are so many benefits of gymnastics for children? Youngsters are energetic. They love to bop and hop, jump and twirl, roll and leap! You certainly have to admire their boundless energy! As parents, we have the opportunity to help our kids harness that energy. Gymnastics is the perfect activity for young children. It makes use of their natural affinity for movement. It directs their overflowing energy towards something more structured and productive. Wee Care Preschool, located in Chula Vista, California, offers children's gymnastic classes. Go ahead and enroll your child in this healthy and fun activity! The little rascals won't even know they're hard at work, building muscles and bone strength! Not only that, but they will feel so accomplished when they show off their first somersault! Perhaps they can even teach us a few tricks!
Why Gymnastics is Important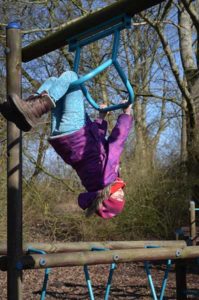 This 200-year-old sport is a popular highlight of the Olympic Games. Why do we love watching it so much? Perhaps the sport's high intensity and dynamic quality attract us. Or the displays of exceptional precision impress us. Gymnastics shows off the human body's wondrous capabilities. It astounds us with almost miraculous feats of extreme agility, control, and strength.
Professional gymnasts inspire us all to reach a little farther and jump a little higher, even as we cheer from the sidelines. Wouldn't you love to be cheering for your little one as they tumble with joy? Give your tyke rewarding experiences that make you both feel good.
Of course gymnastics is super fun; however, there are also many health benefits of gymnastics! With regular classes, your child can literally get a "jump start" on development. This activity challenges the whole body, from head to toe. Gymnastics classes offer your child a foundation on which to build a lifetime appreciation for fitness. While physical training has so many beneficial qualities for the body, it also works wonders for the mind! The rigor and discipline needed in gymnastics class carry through into other aspects of a young child's life. After all, it's never too early to try your best.
What are the Values of Gymnastics
There are countless benefits of gymnastics for children. The list below names just a few.
Develops the body. Your child will become more aware of their body. They will develop coordination and basic skill-building. The regularity of gymnastic exercises will also increase muscle strength and flexibility.
Builds confidence. Accomplishing a new skill offers your child a badge of pride. Let them show off a little; they've earned it!
Introduces discipline. To meet their goals, little gymnasts must work hard. It is important for kids to experience this correlation between focused effort and goal achievement.
Cognitive skill development. According to studies, cognitive skills are higher in children who take part in activities that engage both mind and body. (Barrett, 1998)
Exploration and discovery of their body. Children have a natural curiosity about the world, which includes their own body. Gymnastics provides room for exploration so children can follow their curiosity. It lets them figure out how their limbs move.
Provides socialization with peers and teaches etiquette. In gymnastic classes, students are part of a team. They are obliged to support one another, treat everyone with respect and follow all the rules. This sets them up with yet another skill: how to get along with others.
Go For It!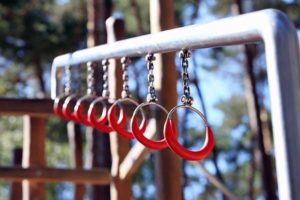 Gymnastics are a fun way to channel the abundant energy of your child. Watch them jump, roll, and spin! Cheer them on as they try new things! After every session, your child will feel fully satisfied and, hopefully, even a bit tired.
For children, gymnastics is all fun and games. Parents know that gymnastics lessons also assist in development. Your child will gain physical
strength, flexibility, and coordination over their body. Not only will their cognitive skills improve, but also their confidence and discipline. They will develop a healthy relationship with their own body. Also, their social skills will flourish.
Your little gymnast will grow up to be a fit, social and confident individual who doesn't fear a challenge. Your little one might even become an Olympic gymnast and inspire a new generation of children. Become an even prouder parent and contact us today! We invite your child to join our gymnastics lessons at the Chula Vista day care. Let your child take the plunge and experiences classes himself. They're fun; they're healthy! You simply can't lose. The benefits of gymnastics are plenty!