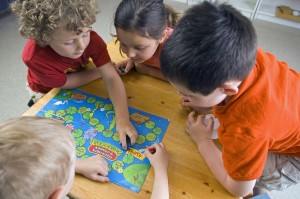 Dropping off a child at daycare for the first time can be a truly harrowing experience. The parent frets over the child's well being and giving up control; the child worries that he or she will never see mommy or daddy ever again. Aside from the minor trauma of parting ways with each other, both parents and kids can actually get a lot out of child care services. Here are five interesting and unexpected benefits you should consider when it comes time to locate child care programs in your area.
Starting their social life
When you child is dropped into a strange new environment, his or her first reaction will probably be fear and discomfort. But most affordable day care providers look after a dozen or so other children, meaning your kid will make friends quickly and easily. These early social relationships play a big part in shaping his or her future, and some studies have even shown that kids who relate to others in daycare have fewer emotional problems later on. And this is even before any schooling starts, too.
Laying the groundwork for higher education
Speaking of education, kids in daycare are typically less likely to have behavioral problems and act out in school. In child care settings, children tend to learn how to interact with others both their own age and older, which gives them an advantage once they head to elementary school, then high school and even college. You'll want to locate child care providers where you can talk with the caregivers and ask them what types of learning activities they offer for your child to participate in.
Boosting their immune systems
Though they might pick up more runny noses and sore throats than if they had a nanny, kids tend to get over their sicknesses more quickly when they pick them up in daycare. This allows them to build better immune systems early on, making them healthier later in life. When it comes time to locate child care centers in your area, always ask pointed, health- and safety-related questions for daycare providers to ensure you're leaving your babies in good hands.
Helping the parents help each other
Parents whose kids attend the same daycare centers tend to make fast friends. Say you drop your kid off at the same time as Wendy, another mom, every day — soon, you and Wendy might be getting coffee and talking about raising your kids and swapping parenting stories. It's essential to have these kinds of support systems when you're trying to bring your kids up the right way, and it all starts with finding the right childcare facilities near you.
Learning how to become independent
For any child, it's a long road from being diaper-dressed and completely dependent on their parents to learning how to live a functional, free life. The first step — the separation — is often the hardest for both kids and parents, but it always proves to be the most beneficial. You can help prepare your kids by teaching them how to dress themselves, brush their own hair and tie their own shoes before you send them off to your local daycare center.