Children love day care for many reasons, and by picking the best infant day care you will too! Day cares that offer infant care provide unique opportunities for your baby in addition to allowing you to go back to work, or take a few days a week to regain your sanity! Wee Care Preschool offers affordable, high quality infant day care for your little one so you can go about your day knowing they well taken care of, and having fun!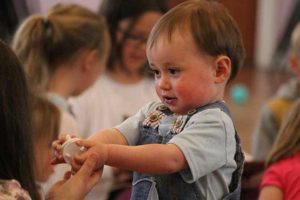 Children love day care because of the structure it offers. Ask any expert, and they will tell you babies need routine. By setting their biological clock, and teaching them that they have to follow rules. Rules, such as bedtime schedules, bring order to chaos. (www.parents.com) Your child's teachers will work with your established schedule and adapt as your baby grows. Your little one will flourish in an environment where he or she can predict the next activity. Eating and napping at scheduled times ensure he or she is happy and well rested when making the transition back into the home at the end of the day.
As a parent, the structure of infant care allows you to drop your baby off at the same place every day without worrying about his or her caregiver being ill, or taking a vacation. The day care center doesn't close when someone goes on vacation. Someone will be there to care for your baby while you are handling other business.
The care givers or teachers at your child's center will also do their best to make sure your child enjoys his or her time there. A great love for children is a must for anyone who works in child care! Soon, your child will light up when his or her name called by the teacher. In addition to developing a relationship with your little one, the teachers are closely monitored and trained professionals. Unlike a nanny or relative, they must be CPR and first aid certified at regular intervals. The day care facility maintains these certifications and should be able to provide copies upon request. To ensure quality educational child care, teachers are also trained in age appropriate learning activities and standards. As they spend time with your child, they tailor your child's day to his or her individual developmental needs and can alert you to any concerns that might arise.
Children are social beings and thrive in an environment surrounded by their peers. This is one more reason they love child care centers. Other kids like them are everywhere! Small babies can interact with each other or older infants by smiling and gurgling. As they grow, they will learn to communicate with other children and use their words to solve conflicts. They start building foundations for later relationships by learning how to make friends, share, and other social norms. www.childcare.net
You will love the ability to cope with, or the lack of separation anxiety. Every child is different, but day care will help each handle his or her own level of separation anxiety. Your child will become familiar with his or her teacher, and as that relationship develops, have less and less separation anxiety. This allows the transition to kindergarten to go smoothly. This fact does not mean that your child will not miss you and sometimes cry to communicate his or her feelings to you. However, you can leave knowing your baby is in good hands, with someone they love and trust.
The best infant day care will offer your baby a wide range of activities. Your child will learn through art, manipulating toys, being read stories, singing songs, and interactive play with teachers. All activities are educational and age appropriate. A good educational child care center can be easily spotted. When you walk in, teachers should be interacting with the children, monitoring their activities and assisting as needed. Typically, artwork or other crafts will be displayed. Your fridge will soon be covered in hand print turkeys, popsicle stick snowflakes, and paper hearts! Even during infant care, teachers will aid your child in making handprint or footprint crafts that will quickly become your dearest treasures. By engaging your child in structured learning activities, the day care facility is making the transition to kindergarten even easier. www.foxnews.com.
Another concern for parents is finding all of these benefits in an affordable infant care center. With three convenient locations in San Diego and the surrounding areas, Wee Care Preschool ensures parents have