San Diego preschool develops literacy every day. Raising confident readers starts with developmental activities throughout the child's preschool years. These eleven early literacy activities for preschoolers and parents will inspire book time fun for you and your child.
Building Preschool Literacy Confidence
Environment of Literacy
Reading Activities on the Go
Encourage Curiosity
Using a Finger as a Guide
Highlighting Sign Posts
Making Connections Beyond the Story
Rhyming Stories
Variety of Material
Reading and Sharing
Short Reading Sessions
Rereading the Favorites
Preschool Literacy Activities for Parents
Creating an environment of reading in the home places the importance of literacy in the child's subconscious. You can do this by having books available. Having books within reach and several to choose from encourages school-age literacy. Furthermore, when you model reading pleasure, your young child will naturally emulate your behavior.
During your daily routine, you are probably out and about quite a bit. Reading activities on the go involve a connection of sounds, places, and people. Asking your child what kind of sound a dog makes, for instance, followed by "how does 'd' sound?" provides fun encouragement throughout your daily errands. Making a game of reading signs in the store, park, and other buildings too.
Along these same lines, you can encourage curiosity by fostering an inquisitive child. Asking questions is how preschool children put the pieces together. If your child is asking about ants, for example, playing a literacy game or reading a story about ants creates a path to discovery learning. This 'fun' is motivational for your child.
Regardless of what is being read, using a finger as a guide you can say each word while pointing to its spelled text in the story. Through repetition, your child will connect the sound of the word and letters to the printed word. As literacy progresses, your child will use his or her own finger to follow the text.
Also to these literacy activities for parents, highlighting sign posts in the reading develops 'uh-ha' moments for your young reader. Making a point of identifying "stop" or "exit" signs in the reading, for example, transfers outside of the book into real-life connections. Your child will be pointing at signs throughout your town.
Making connections beyond the story inspires confidence. Introducing new vocabulary words within the story gives a contextual foundation. When you are able to offer an extension by showing your child an example of the new word in action, the word will most likely be remembered. What does a prism actually look like compared to the book page?
Preschool Literacy Activities for Preschoolers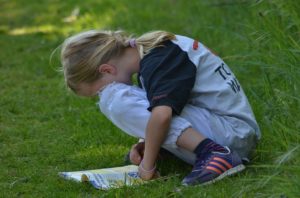 Using activities such as this San Diego preschool uses, rhyming stories, demonstrates a rhythm to letter and word patterns. Many popular children's books have a sing-song structure making the language fun and easy to memorize through repetition. You probably remember your favorites—right?.
Literature offers many unique characters and plots. Reading a variety of material with your preschooler shows that reading is everywhere. You should encourage not only a variety of stories but consider non-fiction segments or even recipes.
Reading and sharing the text builds confidence with your parental support. During the emerging stages of literacy, your preschooler has a limited vocabulary. Allowing your child to "share" with the reading by saying the known words grows literary confidence. Eventually, your child will "share" more than you will.
Keep an eye on your young reader. You do not want your child to become frustrated with the complex process of decoding. It is a good idea at this stage to have short reading sessions. This doesn't mean that you won't have several. And, when your child is ready, you can add more time.
Your child has one or more favorites. Rereading the favorites is certainly okay. Anything that encourages reading is great. Favorite books, especially rhyming books, help children identify patterns through repetition. Letting your child read the same book should be encouraged.
Early Literacy Makes a Difference
Helping your child develop early literacy skills, gives him or her a head start on contextual learning. You can make a difference by sharing special literacy time with your child. Taking the extra step of enrolling your child in a preschool enrichment program makes a difference. It is as easy as clicking here.
Sources:
Developing Early Childhood Literacy Skills. (2016, November 27). Retrieved From http://www.childrens-books-and-reading.com/early-childhood-literacy.html
Preschools Literacy Program. (2016, November 27). Retrieved From http://nashvillepubliclibrary.org/bringingbookstolife/preschool-literacy-program/
Preschooler Reading Milestones. (2016, November 27). Retrieved From http://www.pbs.org/parents/education/reading-language/reading-milestones/preschooler-language-development-milestones/preschooler-reading/