How can you increase your child's vocabulary at home without reading the dictionary aloud? It is important to work on a child's speech and language development before the little learner has stepped foot in a classroom. Today we are exploring some activities to teach vocabulary to preschool students at home!
Talk to Your Child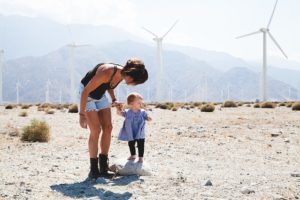 You can start building your child's vocabulary by simply having conversations with them. When you use a word your little one may not now, take the time to explain what the word means and how to use it. Even before your child can understand you, you can exposer her to language by describing to her what you are doing as she watches you go about your day. This can build word association and help expose your child to new language and help her develop relationships between objects and activities and the words that describe them.
Define a Word with Care
If your child asks you what a word means, use a simple definition so they can understand. A great way to help a child understand a new word is to act it out. Take a few minutes to talk about examples of this fun new word in action. This also keeps the fun and play in teaching vocabulary to preschoolers! Fostering a love of learning at a young age will set your child up for success in the future.
Since there are so many words in the English language that describe similar things, take the time to differentiate this new word from similar words. Is that tree big or gigantic? Is the mouse little or tiny? Is this game fun or exciting?