The preschool achievement gap between  middle-class and low-income families can be devastating. Preschool-age children who live below the poverty line are 1.5 years behind their peers in education. As they grow older, this preschool achievement gap does not close. By age 10, the children from low-income families are still woefully behind.

If a child is not enrolled in a quality preschool program at a child care center, they may experience a preschool achievement gap. This achievement gap is not likely to be narrowed by grade school alone. This preschool achievement gap can evolve into having a hard time getting into a good college or finding a good job. The preschool gap is a reality educators and families must combat with high quality preschool programs. Preschool programs can close the achievement gap and set children up for academic success.

Benefits of Early Childhood Education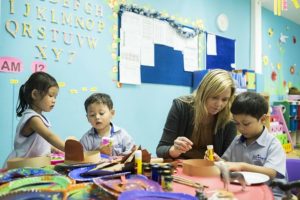 Early childhood education is important because a child's mind is rapidly developing in his or her early years. The first 5 years of a child's life make up the foundational years for linguistic, cognitive, social, emotional, and regulatory skills. Prepare your children  for kindergarten by enrolling them in a high-quality preschool program.

The long-term benefits of early childhood education have been studied extensively for years. Some studies have found children who attended preschool are more likely to graduate high school.

In a Princeton publication called "Long-Term Effects of Early Childhood Programs on Cognitive and School Outcomes" by W. Steven Barnett, "Five of 11 studies with achievement test data found statistically significant positive effects beyond third grade." The benefits of early childhood education extend beyond your child's kindergarten years.